Over the years Wadsworth Woodlands, Inc. has received many awards and accolades. We are very proud of the relationships we have created and continue to maintain with our many landowners. We are going to continue to live up to these past accomplishments, as these are not just attained goals, but mere milestones on the road to continued forestry excellence. Our dedication to forest lands, being stewards of the forest and in contributing to sustainability are forever present in our forestry management practices.
A sample of Conservation & Land Trusts we have worked with: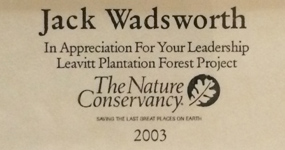 2003 Nature Conservatory
Jack Wadsworth was instrumental in helping the Nature Conservancy place 9,500 under a conservation easement regarding the Leavitt Planation in Parsonsfield, Maine.
The United Society of Shakers, in New Gloucester, Maine - We have managed their timber lands for over 20 years, and have overseen many harvests due to the sustainable timber growth. In turn, our management is monitored by the Royal River Land Trust who is in turn overseen by the New England Forestry Foundation.
Randall Orchards, Standish, Maine - We manage their timber lands and have done so for many years. They are a part of the Presumpscot Regional Land Trust.
2013 Loon Echo Land Trust - Wadsworth Woodlands, Inc. was instrumental in facilitating the sale of 1,633 acres within the Maine towns of Sebago, Bridgton, and Denmark to Loon Echo Land Trust. The trust then placed this land under a conservation easement, and returned the land to the corresponding towns to be utilized as town forest.
2013 Loon Echo Land Trust – Wadsworth Woodlands, Inc. facilitated a timber land gift to Loon Echo Land Trust. The land is located on the West side of Pleasant Mountain in Denmark, Maine.
2014 Conway Conservation Committee - Our client approached us after receiving unsolicited offers from two different land developers. Wadsworth Woodlands, Inc. developed a plan that would include the Conway Conservation Commission to purchase the property and turn it into a 400 acre town forest.
The timber revenue from an improvement thinning of the forest was applied towards the purchase proceeds.
.............................................................................................